When asked what my musical influences are, I can say without a doubt that I grew up listening to PLG. It would also sound much cooler if they became the next Beatles. This PLG story starts circa 1990 and is my opinion and recollection of events. Since starting this blog, PLG now have a MySpace page – http://myspace.com/peaceloveandguitars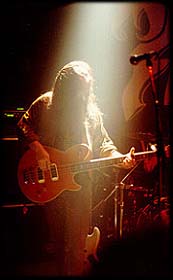 My PLG Story
To be honest it has taken me over 10 years to even listen to PLG again. About a year ago, I came across a box of tapes, took another listen, gathered some inspiration and realized the hiatus was over.
The PLG era lasted about 5 years (give or a take a year or two). The one goal for most of this time was to secure a record deal. This never happened. The band came close with a publishing deal.  At the end of the PLG era, the band finally released their own CD. The CD titled Another Place and Time was actually a double CD released after the band called it quits.
It was full of great tracks and highlighted how experimental, diverse and talented PLG was. It still however left a bitter taste in my mouth. What it failed horribly to show is how PLG rocked!
You can go check it out here or continue with the story…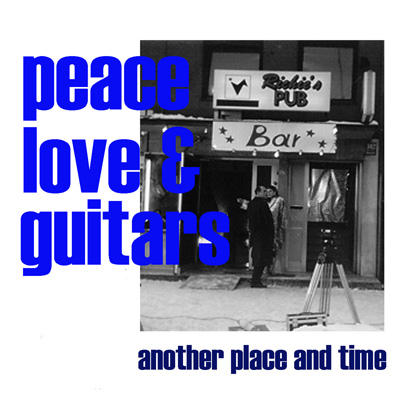 Far too many tunes were left out of this compilation. In fact, there was a whole other side of PLG that isn't represented. The band, primarily Gig, put the bands 2CD release together. Lots of great studio re-mastering was included in this compilation. The track selection consists of home studio recordings (which are awesome) and music from the latter half of the PLG era. Perhaps thought wasn't put into how PLG became a great band. At least 10 of the tracks in this compilation were never performed or part of the live set. I'm not saying that PLG is just a rock band. I'm not saying that their 2CD release is not a journey for the listening ears. I just do not feel that this final CD release, after all the turmoil, is a well rounded representation of the band I know as – PLG. Perhaps Gig forgot he used to rock out wearing shit kickers on stage for a few years. I haven't.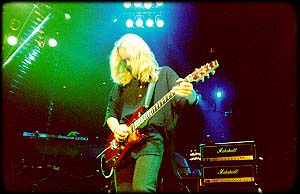 PLG or "Can't Shake It" started as a band sometime in 1988 in Munich, Germany or at least that is when they recorded their first demo. Unlike any other demo, this first offering featured 10 tracks!
After one listen, I was hooked. Three tracks stood out the most and were incorporated into the live set; You Only Live Once, Bad Souls and Quicksands Of Time. The band (Gig, Dave, Marcus & Ron) were mainly playing around the Munich area to start with. They eventually ventured to other European cities for armed forces performances and other engagements. The PLG set at that time consisted of cover tunes from bands such as Pink Floyd, U2, The Beatles and Neil Young to name a few. They also plugged in more obscure cover tunes from artistes like Drivin' n Cryin', The Church and Al Stewart.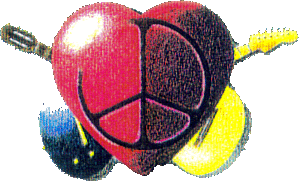 The PLG sound at that time was very much in tune with the college radio sound of the time. Eventually the originals started taking over the set list and the band needed more exposure and more depth. Bob joined the band adding another layer to the PLG sound with his keys.
PLG had their first taste of success by winning the Rock Fierwerk concert in Germany. I'm not sure who shot the video. Its been extracted from VHS in its raw as edited format. Enjoy!
Mothers hide your children, here come the peace freaks
PLG headed into the studio and came out with the track that set the tone for things to come. The song was Peace Freaks. The demo was handed to a manager in England. For arguments sake, let us take the word "manager" in this context lightly. The plan was set. PLG was to head to the UK and get a record deal.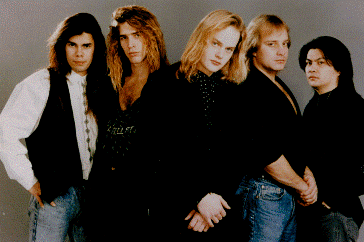 I was also mailed a copy of the Peace Freaks demo. I thought it was awesome and immediately got on the phone with Marcus. I heard about their planned trip to the UK. I was also living in the UK at the time. In the phone conversation I asked "So where are you playing when you get here?" The answer was, "I don't know". I then said "Perhaps I can get you some shows?" To this day, I'm not quite sure why this came out of my mouth. I was at the end of a door-to-door salesmen gig, in fact the next day I quit my job. With my mind racing, I started putting together a press kit for the band. I opened up the local music papers and started the search for live venues. The only way this band was going to get a record deal was to play in London. I needed a show in London. I picked up the phone and my tongue started moving. By the end of the day I booked a meeting with a promoter in London to discuss the band in person.
The Hippodrome
I attempted to book the band into one of the larger London venues, The Hippodrome. The meeting went well, I was nervous so the details are sketchy; I remember we listened to Peace Freaks, I then remember riding the train back home. I followed up with a phone call two days later. I had sold a 4th of July celebration in London for PLG.
The band arrived in the UK and by this time, Tracy had joined the band. PLG was now six plus one hard working kick ass dude, Wolfie. The band moved in with their manager and got ready for their first show.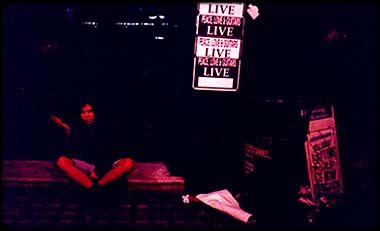 I met up with the band on the fourth of July at the Hippodrome. Gig looked up at the scrolling billboard for tonight's performance and turned to me and asked "Live from Los Angeles?" I smiled and quickly said "You got the gig didn't you?" The boys proceeded to rock the Hippodrome. It was a great show and a great start to their UK adventures.
The Tour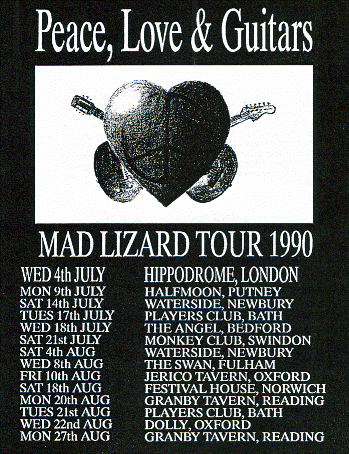 Those initial tour dates above was just a start. It is also amusing looking back at the list of shows. I was very much in a learning stage for booking "good" shows. For instance, one cannot forget The Angel, Bedford. With our egos sky high we arrived, setup and performed to the one gifted gentleman that decided to attend. Other shows were more memorable for better reasons. The Swan in Fulham is where we met a kick arse band called the Riffz. We started gathering a UK following from places like Bath, Oxford and Norwich. We also met some very loyal promoters at various locations who contributed heavily into the bands success and longevity in the UK.
The early shows still included some cover tunes mixed in the set. I came across a great cover of Comfortably Numb by Pink Floyd from the performance in Bath. It's not perfect. With many of these recordings, you have to live with sounds coming from the mixing board and tweaks that are made during the performance, which results in a few dips here and there. Anyhow, still good enough to capture the performance.
Mad Cow Management had plans to get the band back in the studio to record some more songs. I continued to book shows. While I was on the phone, PLG entered the Old Chapel Studio. This was the first sign that "things may not be as they appear". PLG re-recorded Only Live Once, Peace Freaks, Bad Souls and Quicksands of Time with a "real" producer. In a word, it was dreadful.
The mixing was very "metal" and engineered towards a "cheesy rock sound". The songs were poorly edited, especially Bad Souls, to make three minute and thirty-second hits. It did not come close to the original recordings. The band went with it however as Mad Cow Management shopped the new demo around town or rather – the village. There was one new track included in this session that apart from the engineering was one of my favorite tracks and part of the new live set – Lonely Road.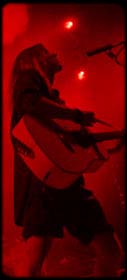 So with another new demo in hand I continued booking shows, in fact I booked many. The band averaged one show every three days for the first year. The band was playing on a regular basis writing more and just getting better and better. One of my favorite and a very famous venue in London was the Marquee Club. PLG played there several times.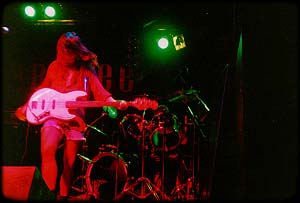 A mainstay of the PLG set at that time was the track "Quicksands Of Time". It was a great track and in my opinion showcased a heavy Floyd influence. By now I was pretty much living and breathing PLG. During the nightly performance of "Quicksands…" I found myself drowning in a pint, taking the opportunity of talking to the local promoter, having a fag or taking a slash. I became somewhat immune or worn out with the track as a result. Saying that, on a stage like the Marquee, Quicksands of Time was awesome.
I also found a recording of "Revolver" from the same show. Revolver was a newer tune at the time. The studio recording is on the bands Another Place and Time 2CD release. The song was best portrayed live. Usually most of the stronger vocals were handled by Dave. Meaning if someone was yelling, screaming or shouting out some lyrics, it was pretty much Dave. Gigs vocal style was generally much softer. This recording captures Gig with an attitude (giving it some "welly"). Was it the fairy boots? The love of Newbury? Whatever it was, it gave the song great energy and is how I remember it night after night.
By now PLG had devoted a year touring the UK and seemed to not make any headway into the music industry. Management relationships in the UK had gone sour and the excitement of playing in the UK was just gone. PLG returned to Munich and no plans were made to return.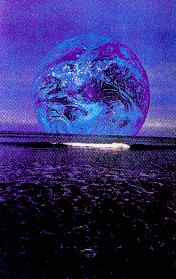 During this limbo state, I heard about a job offer in London through a great contact and friend, John Vyner. He told me of a London agency looking for a booking agent. He was also a big PLG fan. Along with another great friend, Paul Adams, things for me in the UK were looking up. I can't say thanks enough.
I was hired at permanent artistes to book a tour for a band called Balaam and the Angel. After my first few days on the job, I stopped by to thank John (he was also a booking agent). He asked about PLG and I said they were looking for new management. We came up with the idea of pitching the band to John's boss at the time, Gerry Bron. Gerry owned the Bron booking agency, the Roundhouse Studios and was involved in other management projects at the time and well established in the London music industry.
I picked up the phone and talked to Gig. PLG were recording some new tunes but it was not decided if PLG would return to the UK. A meeting was set for Gig and I to meet Gerry in London. Things went well, Gerry like the idea of shopping the band around town, we like the idea of him doing so. A few weeks later PLG returned to the UK under new management.

Upon their return PLG headed into Gerry's Roundhouse Studio. In my opinion, this was the first of two great studio efforts that eventually led to the bands first break through in the music industry. The Roundhouse demo included recordings of Peace Freaks, Quicksands of Time, Talkin' About Love, Reasons and Make It (If We Try)
The band signed a publishing deal shortly after with Warner Chappell Music.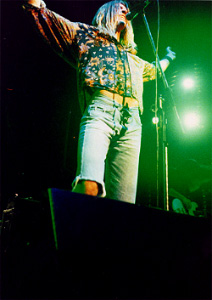 PLG moved into an apartment in Highgate, London. With the help of Gerry and Warner Chappell they proceeded to knock on the doors of record companies. This eventually led to their second very successful studio effort. The band entered the Sunday School Studio to record The Good Life, Circus In This Town, Way Way Out and Picture.
Personally, I felt you could put both of these demos together and release the first PLG album – they were that good.
The shows continued and the band kept knocking. In the end time and money ran out. Another year had gone by. The next option for the band was to go to the U.S. The Seattle music scene was exploding and PLG wanted in. They played one final show at The Mean Fiddler. It was awesome and left me thinking, if only they had stayed longer…
PLG Wembley Arena Concert
These tracks capture the PLG band that played for two years in the UK – The Mad Cow Years.
A Lonely Road production compiled by flameproofmusic.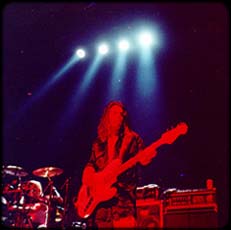 Part One
Peace Freaks, Lonely Road, Loves In and Bad Souls
Part Two
Talkin Bout Love, You Only Live Once, Terminal Eyes and Island Earth
Seattle
PLG moved to Seattle and joined Terry Morgan and Modern Enterprises. Terry was established in the local music scene, had previously managed a band called The Posies, and began marketing the band around the city.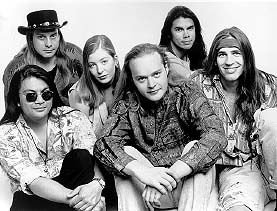 I stayed in the UK and continued working in the London music industry.
Another year went by. PLG played around the Seattle area at some top venues and festivals. They continued recording their music. I received a letter towards the end of the year from Marcus. Dave had been asked to leave the band. I was shocked. Was this the end?
My stay in the UK had also ended. I decided to relocate to Seattle myself. I had heard the latest PLG demo, which did not include Dave. It featured the tracks Dream, Mother and a new version of Peace Freaks. The demo had a great groove and gave hope to life after Dave.
Check out the 5 piece PLG on a Seattle cable television show.
The PLG sound to date was a mix of two very strong songwriters in Dave and Gig. Their styles were completely different. This in my opinion was part of what made PLG great. I was skeptical at first of hearing the new PLG sound. I was however pleasantly pleased. I also thought they needed to explore this new sound more. The band felt otherwise and was already looking for someone to fill Dave's vacant spot.
Year two in the US welcomed Chris to the band. He was an old friend of the band from Europe and he too was a strong singer/songwriter. I heard some of Chris's demos and he immediately reminded me of a male Tracy Chapman. How was he to fit in with the PLG sound?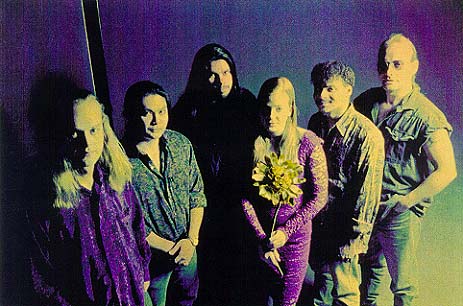 I do not think there was ever a question of whether Chris would or would not fit in with the band – just rather how. Saying that, I do not think the two styles jelled as well as expected.
After a few months, PLG played some of Chris's tunes and it sounded like PLG playing some of Chris's tunes. The collaborative efforts lacked direction. PLG also started playing some of Gig's older tunes and they too sounded like PLG playing some of Gig's older tunes. The PLG sound as a whole went in a new direction.
PLG became sort of a jam band with perhaps some Grateful Dead influence. Their live set consisted of songs blending into each other and somehow just became background music for the most part. They did do it well. They were a great live band with years of experience and at times it was fun. I even joined in during the last few months adding some percussion.
At the end of the second year in the US, it became obvious that this long journey was ending. Life in the US was much different. The band had daytime jobs and it was not all about being PLG anymore. The US was a much larger pond to win over than the UK.
PLG decided to play one final show at Seattle's famous Bumbershoot Festival. They did it in style as well. Gig called up Dave and invited him back for the final show. We all jammed together, played some old tunes, played some new tunes and said farewell.

The Mad Cow vs The Angry Lizard
The unofficial greatest hits 12 track CD
01 Peace Freaks
Most of us were left with the bands self released 2CD set of PLG songs. Hearing just that version of Peace Freaks you would think it was simply a laid back groove jam.
It started out as rock tune with a killer hook…
02 Lonely Road
The lead off track of the live set during the UK era.
Kick in the face of the earth…
03 Reasons Part III
An alternate version of Reasons.
This is from an earlier demo and my preferred version.
04 Make It (If We Try)
I am not sure how this did not make the bands CD? I prefer this to the Talkin' Bout Love recording that is included on the bands CD and both taken from the Roundhouse demo. Both of these songs are written by Clayton Halsey. Anyhow, back to this song – It simply rocks!
05 Dream
Taken from the first demo in the US – Dream has a great feel, reminds me of the northwest mountains, and perhaps represents a breath of fresh air for the band post Dave.
06 Way Way Out
A repeat from the bands 2CD set. A great song.
07 Circus In This Town
Another repeat from the 2CD set. Great london bus sound clip…
08 Big World Parade
Talking about a world of good people with love on their brains.
(the only version of this song I could find – it had the beginning messed up – sorry about the bad edit – had to include this song though).
09 The Good Life
Try to understand what you believe is only what you do…
10 Picture
This is PLG Gig style…
11 Peace Freaks (US Version)
Great song no matter how you play it.
12 Bad Souls
How can you not include this track…
*****
*****
Life after PLG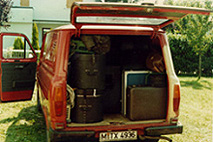 Ron – worked with Gig at the end of the PLG era putting together the 2CD compilation. He stayed in Seattle a while longer and began working on his own album. He eventually moved back to Germany and I'm not sure if he continued with any further music projects.
Gig – continued writing and recording in various studios around Seattle. He moved down to California for a while and played guitar for the band Dada (yeah, the dudes that sing that song "Disneyland"). After about a year Gig returned to Seattle and continued recording his own music. He most recently played guitar for a Seattle artist called Leroy Bell.
More here – http://myspace.com/gigimckell
Dave – stayed in Seattle while PLG was still playing and began working on his own project "Crawfish National Tongue". Dave always had crazy ideas and he decided to shoot a video before he even had a band put together. He asked Marcus and I to hang out with him and be his band members for the video. He booked the gymnasium that they filmed the "Smells Like Teen Spirit" video and recorded the song helicoptering. He did eventually get a live band for his project and they played a couple of shows around town. Dave later relocated to Texas.
Marcus – continued playing bass. His next project was called Count Foxy. They cut a few demos and toured up and down the West Coast. After about a year he hooked up with Steve Mack from the band "That Petrol Emotion" and joined the band Anodyne (or Marfa Lights in the UK). Also in the band was Harris from the Seattle band "Hammerbox". Anodyne recorded a CD and toured in the US and UK. After a couple more years Marcus joined the band Alta May with long time friend Erik and new found friend Garrett. Alta May pumped out three albums and toured around the US. Alta May evolved into The Press Corps which also features Dan from "Mudhoney" and Bruce from "Mother Love Bone". Then there is Mia, Love Battery and Texas – go check out his myspace page to get the latest – http://www.myspace.com/neverrockalone
Chris and Bob – put together a project and played around the Seattle area. More here – http://www.myspace.com/jtcreemus
Know something I don't know?
Have something to say?
Post a comment
Jim's Requests (from below comments)
More from the Vault
PLG walked into The Swan, Fulham (which soon became somewhat a regular gig) and proceeded to give London a first taste of these long haired hippies. This gig is an example of how PLG captured and catered to its audience. Only an American band in the UK could pull off these classic covers…
Oxford Frevds Cafe
A very interesting gig indeed. I doubt they have bands playing there any more. So in the midst of this rock n roll affair I wanted to get PLG an acoustic gig (cause seeing this before – it certainly gave viewers another look into the PLG sound). My goal was to give the whole PLG picture and invite record & publishing companies to all venues. Anyhow, located in the center of Oxford is this really cool cafe…
"The FREVD café in Oxford opened in 1988. The Oxford FREVD is housed in a former Greek Revival Church which was built in the early nineteenth century. It has a stone portico whose entrance steps climb between weathered stone columns." (plus we were very careful not to shatter the staind glass windows – seriously!)
I will end this with a compilation of pics from this website and a few extras. The song is Ocean Child from their original 10 song demo. Enjoy!
****************************
****************************
Comments from previous blog
****************************
****************************
Anonymous said..
Don't know anything that you haven't already posted. Just wanted to say thanks for putting these songs on the web. George is my Father-in-Law, and he took me to see PLG 5 or 6 times. I remember the Show at the Marquee, awesome show. Now I do have one questions for you… They sang a song with these lyricks, I still remember the first girl that I made love to, it was in a park. I think it was a cover, but I really enjoyed their version. Do you know who the original artist was. Also,I was at the studio when they were recording talkin bout love. It wasn't the same. One of my favorite songs was 15 miles from/to London. I am going to look in my "cassette" collection, I think I might still have it on cassette. Thanks again, Jim owings66@hotmail.com
Anonymous said…
Hey Jim, I'm sure we have met at some point (especially if you were at the studio). I just started working on this site this year as a side project and haven't even sent it out to PLG or search engines as I continue building it. So I'm curious how you came across the site. Very cool that you posted a message – that's the whole point really…George was awesome and invested time and money into the PLG cause. He was very much the good part of the Mad Cow days. He also helped me in promoting other bands at that time as we worked together with his PA system. The song you mentioned is Love Chronicles by Al Stewart. I went ahead and dug up a live recording (not the best) and posted it for you. I also posted 15 miles…I agree it was a great song from the "early days" but I also felt it lacked another bridge or something. Anyhow, I had fun pulling it off of tape and turning up the tempo just a bit.-fpm
Anonymous said…
Thanks, Ian. Kind words indeed. Alive and well in South Mississippi.George
ricica said…
Thank you!!! I have been longing to hear PLG's version of "Love Chronicles" since I left Munich in May 1990. I bought their CD from Ron when I ran across it in the States but it was missing so many songs from the live shows they used to do for us in Munich. I have so many awesome memories of their shows! Thanks for putting all this on the web…
a PLG "groupie", University of Maryland, Munich Campus 1988-1990.
wulfie said…
great project. enjoying it. thanxx. got to go through my tapes? heard from dick that dave plays somewhere out in the emirats now.. thomma@24h.de
Leif said…
What a treat! Do you have a "Hole in the Wall" anywhere? I saw them play that in the Boot Room the day the wall came down, it is now the soundtrack to that historical moment for me. Dave is living here in SA TX with me and he is performing constantly. His new axe of choice is nylon, his style between classical and jazz. His playing has gone from really good to phenomenal! He is accompanied by another guitarist and a marimba player… I would love a copy of the disc! Peace, (love & guitars) Leif lendresen@yahoo.com
Holly Braddock said…
Wow – this took me back. I really appreciate all the hard work you put into getting this site together. 15 miles from london was always a favorite. Another old groupie from Munich Hollyeqq@hotmail.com
Angela Callahan-Lowden said…
Thank you for putting this information on the internet! I attended some of the same schools with Gigi McKell in Germany and had a huge crush on him. I'm glad to discover he pursued a musical career with success. I remeber watching Gigi and his friends/band perform a rock song (Dream ON?)at the Jr. High School talent show. I hope to hear more of his music in the near future.
Kerry said…
This is great info on PLG. I was supporting DJ (RoadRunnner Rock) when they played at Chicksands a few times. I also saw them as they played around at the Angel, Underground and Mean fiddler and more. The only info I found before was about Marcus. My tape gave up years ago and I would love to have a new copy of the tracks. I'm sure I have plenty of pictures in the attic of the band. Kerry
Mike Osborne said…
Ian, I don't know what to say mate, you've just made my life seem so much better, I can't explain how this has made me feel. Please get in touch if you get a chance, and any of PLG if they ever see this website. It was one of the most memorable times of my life when the band stayed at my home during their gigs in London with Riffz and all their mates. Thank you with Love Mike