Circa 1992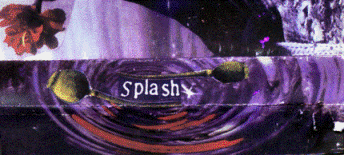 Splash was the start of my experiment at becoming a musician. During my solo adventures in London as a booking agent I spent many hours in a coffee shop drinking hot chocolate with a good friend and fantastic singer/songwriter, Grant Van Dijk.
One afternoon I ended up at Grant's house and was introduced to his tascam 4 track. I was used to critiquing music and often enjoyed winding-up Grant about some of his tunes. This somehow led into collaboration effort or just a way for Grant to shut me up. Not being able to play a note on the guitar, I hummed a verse, chorus, verse to Grant and he translated and performed it on the guitar. I grabbed a piece of paper and started putting lyrics together. Since I couldn't sing to save my life, I handed the piece of paper to Grant who was kind enough to handle the vocals as well. I then got busy twisting knobs on the 4-track. That evening I recorded my first tune. I came back the next day full of ideas and tortured Grant some more. I ended up with a handful of tunes.
In my apartment I had this old answering machine which recorded onto cassette tapes. I would often record different musical greetings for my callers. The end result was some interesting messages from families and friends. I grabbed the cassette tapes, ran over to Grant's and had an idea for my next recording. I went over board on the drum machine, asked Grant to play some crazy electric guitars and started turning knobs again on the 4 track
There were a few other tracks that I experimented with. I packaged them all up and called the project Splash.
Next stop – Seattle
Giving up the booking agent gig I moved to Seattle for a ugh…brighter day…anyhow, I was also in need of my PLG fix (see PLG section). I arrived about the same time as the new member of PLG, Chris. Chris and I ended up splitting the rent in a studio apartment while enjoying a stint at telemarketing. Chris, like Grant encouraged my interest in music. I went out and bought some bongos so we could jam, then a tambourine and before I knew it I had a bunch of percussion instruments. This led to a short stint as percussionist for PLG during the last few months of their career. It was a great exposure to larger crowds in some of the better Seattle venues. After PLG, Chris and I continued to jam and talked about starting a project.
Pineapple Brown never evolved into a band but just before Chris and I went our separate ways we got a four track and recorded a few tunes. Two of those tracks are here – Day and Funny Papers – and of course they are very raw recordings…
From there I actually got a drum kit but not just any old drum kit….I bought Ron's kit or "the PLG drum kit". For me this was kind of cool. Do you know how many times I helped lug this kit around while touring in the UK with PLG? Now, I actually had a chance to play it. Well, enough of that. One thing led to another and I ended up jamming with Matt (a friend from the PLG lizard days) and Pete.
Barrett Street Boasters – never getting out of the garage (put making it to one backyard party) was my first stint behind the kit. We had a handful of songs. At the time I was still interested in writing songs. Some were good and other were well…anyhow there was one recording of a song I wrote called "Supersonic". It was a fun tune to play. Actually it's pretty damn funny as I was somewhat influenced the by the rap/rock bands of the time. The song is also about me the bar-grinned fool and my music drug of the time. The original recording was again on a four track. Though Pete was the singer in this project, for this recording, I went back and replaced it with my vocals. Years later I found this recording when I started getting into computers. I played around with adding some sound bytes and experimenting using software to add some layers. And here it is…
The Soilers – One of my favorite sessions. Gig from PLG bought some studio time to record some new ideas he had. They needed a drum kit and Marcus asked me if they could use the old PLG kit. I brought it over to the studio, set it up, walked into the booth and Gig started playing a track I had never heard. I picked up the sticks and followed along. In one take the song "Beautiful" was recorded. Matthew (from Count Foxy) added the flute and Marcus (of PLG and then Count Foxy) played the bass. Personally it was a cool experience to record with Gig who led the band I followed for many years and aspired to. I of course would have loved a to have had a second or third take to get it right now that I have heard the song…
This also marked the last recording on the legendary PLG kit as I ended up buying a "smaller" newer drum kit. I was also done with lugging that huge kit around.
From here I went to a few parties. On evening I was handed a piece of paper. It said "garage band looking for drummer, call Larry". I gave it some thought. At this point I had jammed with people I knew. Could I walk into a room with four strangers and pull it off as a drummer? I made the call.
Next stop…Wonderlux…